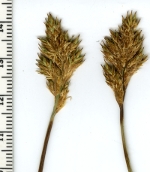 Carex mariposana possibly found in Oregon (February 28, 2009)
In 2005, Bruce Newhouse collected an odd Carex in section Ovales, near Calapooia Divide, near the Lane/Douglas County line. It's a good specimens with mature, normal-looking perigynia. Recently, Peter Zika identified that specimen as Carex mariposana. That species grows in the Klamath Region and Sierra Nevada of California and adjacent Nevada. It was totally unexpected in southern Lane County. The plant (pictured at left) has the long, strong ventral veins of C. abrupta but its longer inflorescence and paler perigynia are a better match of C. mariposana.
Well aware of how individual variation in Ovales sedges can confuse their identification, Peter would like visit the population or at least see more specimens before being totally confident in the identification.
Usually, we're happy to welcome another sedge to the checklist of Oregon Flora, but we've been burned by Carex mariposana records too often to work up much enthusiasm for this one yet. Carex mariposana has been reported in Oregon repeatedly. Until this one, the specimens have proved to be misidentified C. abrupta, C. athrostachya, C. microptera, and C. multicostata. Most of them have had aborted perigynia that could not be keyed effectively.